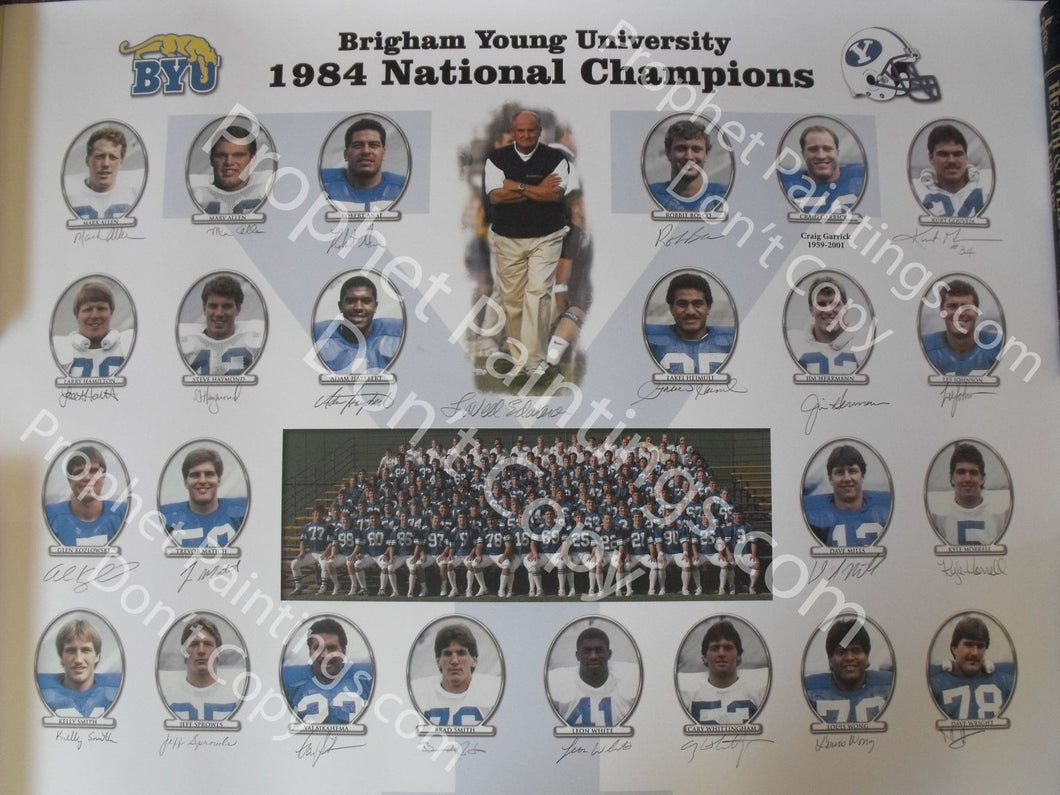 BYU NCAA Football 1984 Champions Autographed Poster
Regular price $310.00 Sale
This limited-edition lithograph has been prepared to commemorate the Twentieth Anniversary of Brigham Young University's 1984 National Championship Football Team. Coach LaVell Edwards and each respective player hand-signed each lithograph during the months of August and September of 2004.  Each 27" by 32" poster is hand numbered comes with a certificate of Authenticity.
Shipping is included in the price!
The team picture includes the following individuals:
1984 National Champions – Coaches: LaVell Edwards, Norm Chow, Dick Felt, Roger French, Mike Holmgren, Mel Olson, Jim Paronto, Tom Ramage, Lance Reynolds, Ken Schmidt, Chuck Stiggins, Bart Andrus, Claude Bassett, Mark Brady, Tim Lino, Dennis Miller, Charlie Stubbs; Players: Ladd Akeo, Mark Allen, Marv Allen, Robert Anae, Todd Arbon, John Bechtold, Mark Bellini, Greg Biddulph, James Bischoff, John Borgia, Robbie Bosco, Andy Boyce, Jason Briggs (dec.), Paul Clifford, Robert Conlee, Gary Costar, Paul Crawford (dec.), Kevin Doman, Todd Downing, Patrick Earl, Chris Edwards, Jim Edwards, Kerry Edwards, Peter Finau, Alema Fitisemanu, Blaine Fowler, Michael Franks, David Futrell, Craig Garrick (dec.), Stephen George, Chris Germann, Erick Glenn, Kurt Gouveia, Gary Gray, Larry Hamilton, Alema Harrington, Tau Harrington, Steve Haymond, Adam Haysbert, Brian Hazelgren, Lakei Heimuli, Jim Herrmann, Richard Hobbs, Dave Hoggan, Kirk Holle, Scott Holloway, Jay Huckaby, Brian Hunt, John Hunter, Steve Hutchings, Jody Jennings, Lee Johnson, Andy Katoa, Dave King, Shawn Knight, Glen Kozlowski, Stan Larson, Vern Latham, Rob Ledenko, Lance Lindley, Steve Lindsley, Dean Lott, Talio Magalei, Trevor Matich, Ty Mattingly, Kevin Maughan, Dennis McCormick, Keith McCullough, Jim McDade, Jay McDonald, David Miles Dave Mills, Trevor Molini, Kyle Morrell, David Nash, Michael Naumu, Dave Neff, Scott Norberg (dec.), John Oates, Mike O'Brien, Todd Olson, Sam Oramas, Richard Orr, Jason Parker, Robert Parker, Tom Pitcher, Jonathan Plater, Daniel Ramos, Korey Rasmussen, Doug Rawlinson, Randy Rawlinson, Richard Reid, Joe Richardson, Conrad Roberson, Scott Robinson, Brian Rodoni, Courtney Rogers, Pete Rossi, Daniel Rozsa, Thor Salanoa, Steve Sanders, Marc Sherman, Jay Shumway, Shane Shumway, Vai Sikahema, Brad Smith, Kelly Smith, Ken Smith, Jeff Sprowls, Cliff Stephenson, George Tavita, Rodney Thomas, David Tidwell, Brian Timmons, Dave Tuckett, Tom Tuipulotu, Robert Vance, JC VonCollin, Jeff Wadsworth, Dan Wall, Gary Webster, Tom West, Leon White, Cary Whittingham, Fred Whittingham, Jr., Jeff Wilcox, Leonard Wolfgramm, Louis Wong, Dave Wright, Mike Young; Support Staff: Ed Barney, Bret Boyer, Chad Bunn, Derek Cleverly, Toselyn Daley, Mel Darrington (dec.), Mike Green, Mick Hill, Gene Holm, Floyd Johnson (dec.), Shirley Johnson, Ollie Julkunen (dec.), Mark Philbrick, Dr. Brent Pratley, Marv Roberson, Bruce Tuescher, Dr. Marc Udall, Drew Weidman, Zane Zamenski
The autographed pictures include the following: 
LaVell Edwards, Mark Allen, Marv Allen, Robert Anae, Robbie Bosco, Craig Garrick, Kurt Gouveia, Larry Hamilton, Steve Haymond, Adam Haysbert, Lakei Heimuli, Jim Herrmann, Lee Johnson, Glen Kozlowski, Trevor Matich, Dave Mills, Kyle Morrell, Kelly Smith, Jeff Sprowls, Val Sikahema, Brad Smith, Leon White, Cary Whittingham, Louis Wong, Dave Wright
Serious buyers only $10 fee if order is canceled. Taken out of refund.
No returns, after shipment is sent out!